Message From Mohammed Sami Mughni
Dr. Mohammed S Mughni, MD, FACR has been in practice with Access Health Care since 2012. He has been a practicing physician since 1986. He is a member of The Royal College of the United Kingdom, Diplomat of the American Board of Internal Medicine, Diplomat of the American Board of Rheumatology. Dr. Mughni's areas of interest include polymyalgia rheumatica, osteoarthritis, and vasculitis. Dr. Mughni speaks English, Urdu, Hindi, and Punjabi. He and his wife have three children. They enjoy sports which include cricket and tennis, traveling and gardening.
The Rheumatology Team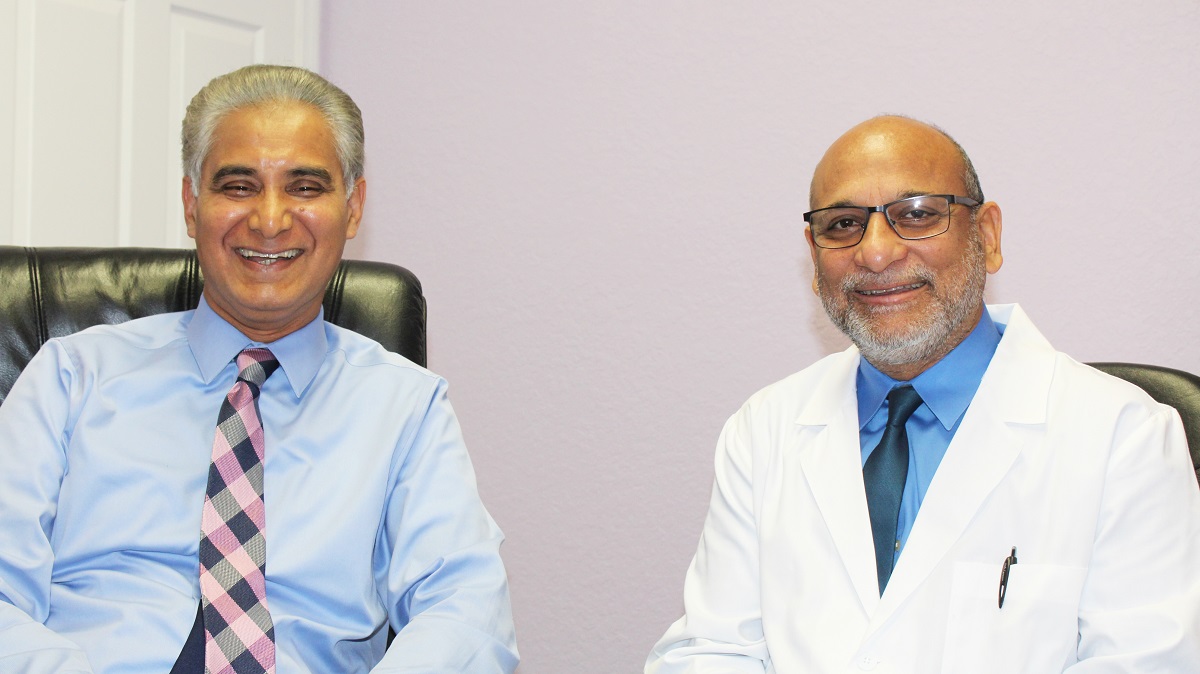 (Dr. M. Mughni with his colleague Dr. Farrukh Zaidi)
About Rheumatology
Rheumatology is a sub-specialty in internal medicine, devoted to diagnosis and therapy of rheumatic diseases. Physicians who specialize in rheumatology are called rheumatologists. Rheumatologists deal mainly with clinical problems involving joints, soft tissues, autoimmune diseases, vasculitides, and heritable connective tissue disorders.
More Blogs about Dr. Mughni:
The Rheumatology Team at Access Health Care
Systemic conditions and connective tissue diseases:
Lupus
Sjögren's syndrome
Scleroderma (systemic sclerosis)
Polymyositis
Dermatomyositis
Polymyalgia rheumatica
Mixed connective tissue disease
Relapsing polychondritis
Adult-onset Still's disease
Sarcoidosis
Fibromyalgia
Vasculitis
Soft tissue rheumatism:
Local diseases and lesions affecting the joints and structures around the joints including tendons, ligaments capsules, bursae, stress fractures, muscles, nerve entrapment, vascular lesions, and ganglia. For example:
Low back pain
Tennis elbow
Golfer's elbow
Olecranon bursitis
Conditions Treated
Adhesive Capsulitis
Arthritis
Autoimmune Diseases
Bone Disorders
Bursitis
Carpal Tunnel Syndrome
Chondrocalcinosis
Chronic Neck Pain
Cutaneous Lupus Erythematosus
De Quervain's Disease
Dermatomyositis
Enthesopathy of Hip (incl. Trochanteric Bursitis)
Fibromyalgia
Foot Conditions
Gout
Hand Conditions
Intervertebral Disc Disease
Joint Pain
Knee Disorders
Lateral and Medial Epicondylitis (Tennis and Golf Elbow)
Limb Swelling
Low Back Pain
Lupus
Malaise and Fatigue
Osteoarthritis
Osteoarthritis of Ankle and Foot
Osteoarthritis of Hand or Wrist
Osteoarthritis of Hands
Osteoarthritis of Hip
Osteoarthritis of Hip and Thigh
Osteoarthritis of Knee
Osteoarthritis of Shoulder
Osteoarthritis of Spine
Osteopenia
Osteoporosis
Patellofemoral Pain Syndrome or Knee Pain
Plantar Fasciitis
Polymyalgia Rheumatica (PMR)
Polymyositis
Psoriatic Arthritis
Pulmonary Disease
Raynaud's Disease
Rheumatoid Arthritis
Sarcoidosis
Scleroderma
Shoulder Disorders
Shoulder Impingement Syndrome
Sjögren's Syndrome
Spine Disorders
Spondylitis
Systemic Sclerosis
Temporal Arteritis
Trigger Finger
Vascular Disease
Vasculitis
Wegener's Granulomatosis