New Port Richey & Spring Hill, Florida (July 30, 2019)– Access Health Care Physicians, LLC, is proud to announce that Gayathri Morrareddy, MD, primary care physician, and her team have achieved recognition under the National Committee for Quality Assurance PCMH Recognition Program.
The National Committee for Quality Assurance will list Dr. Morrareddy and her location on its website with a recognition seal. Dr. Morrareddy and her team practice at 5537 Gulf Drive, New Port Richey, Florida. Call  727-849-2600 to schedule an appointment.
The National Committee for Quality Assurance (NCQA) reviewed the submission, and the practice has received NCQA Patient-Centered Medical Home (PCMH) Recognition for using evidence-based, patient-centered processes that focus on highly coordinated care and long term, participative relationships.
Earning PCMH recognition is a distinction in which a practice can take pride. The NCQA Patient-Centered Medical Home is a model of primary care that combines teamwork and information technology to improve care, improve patients' experience of care and reduced cost. Medical Homes foster ongoing partnership between patients and their personal clinicians, instead of approaching care as a sum of episodic office visits. Each patient's care is overseen by clinician-led care teams that coordinate treatment across the healthcare system. Research shows that Medical Homes can lead to higher quality and lower costs and can improve patient and provider reported experiences of care.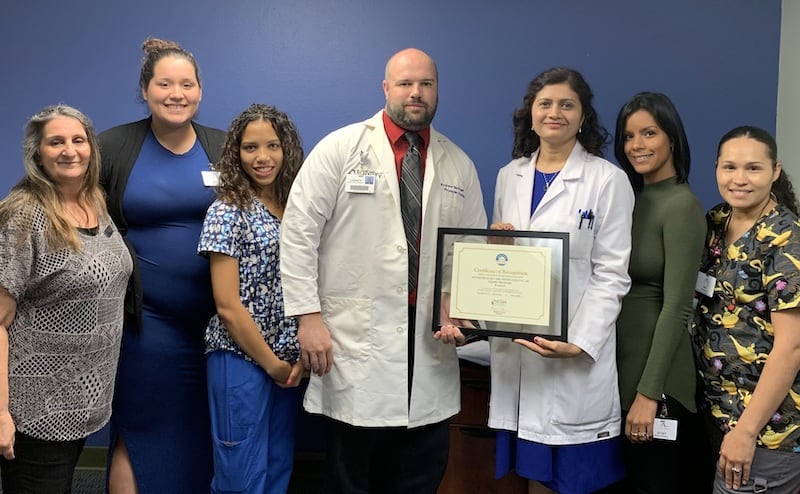 Attached photo:  Dr. Morrareddy and her staff pose with their recognition. From left to right: Victoria Copeland, medical assistant, Mariah Mann, front office, Kayla Frias-Sabino, team lead, Andrew Springer, PA-C, Dr. Morrareddy, Giannies Rodriguez, medical assistant, Elisa Rivera, phlebotomist.
Gayathri Morrareddy, MD, has been practicing in Pasco County since 2007. She completed her residency in internal medicine at Interfaith Medical Center in Brooklyn, New York. Interfaith Medical Center is affiliated with State University of New York Downstate Hospital in New York. She received her medical degree from Qurnool Medical College, NTR University of Health Sciences in India. Dr. Morrareddy has been certified by the American Board of Internal Medicine since 2007.
About the National Committee for Quality Assurance (NCQA)
NCQA is a private, non-profit organization dedicated to improving health care quality. NCQA accredits and certifies a wide range of health care organizations. It also recognizes clinicians and practices in key areas of performance. NCQA's website (www.ncqa.org) contains information to help consumers, employers and others make more informed health care choices.