It was indeed a special day for the Access Family when our altruistic CEO, Pariksith Singh, MD received Resolution Recognition for his significant contributions to Hernando County.  On the 8th of May, Dr. Singh was honored by the County Commissioner, Wayne Dukes.
Throughout the years Dr. Singh has tirelessly contributed to the community on a number of levels: Opening up the Auro Community Outreach Center to help provide food, cash and medical assistance for those in need; the Auro Community Garden, which is a sustainable organic garden that is open to all individuals and families who wish to be associated with the cause; his donations to the Hernando County's People Helping People which help feed the indigent; the building for the Disabled American Veterans and much more.
In his acceptance speech, he first thanked his ever-supportive wife, Dr. Maria Scunziano-Singh, making it very clear that she is a critical part of all the progress. He then passionately told the courtroom all the talent needed for innovation and advancement is present right here in Hernando County for moving forward in growth. Everything we need for innovation and advancement is right in our town where he is proud to raise his children.
In addition to his humanitarian efforts, he was recognized for his economic contribution to the community with employment.  Dr. Singh firmly believes that his world is not limited to his patients or employees. Instead, he feels responsible for their families as well. He has often been heard saying "I don't just have a thousand employees to take care of, I have a thousand families to think of."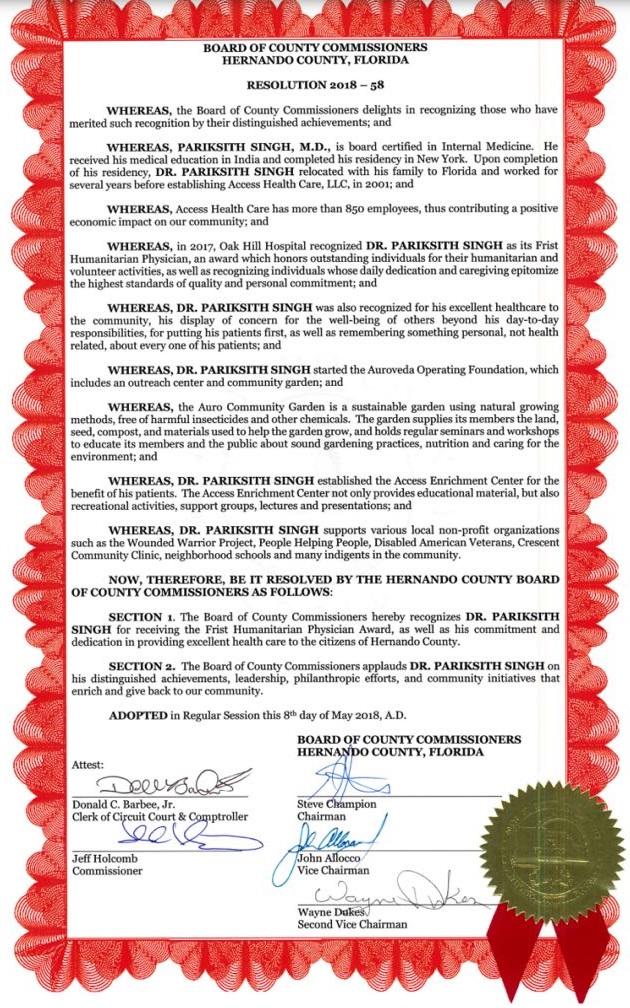 Dr. Singh was humble accepting the recognition saying that he does not deserve this, but the Commissioner should be recognized for awarding this.
Mr. Morana, a dear friend of Dr. Singh for the last 21 years and a resident of Hernando County for 28 years (also seen in the picture above, along with Dr. Singh and Mr. Dukes) commemorated Dr. Singh's acts of kindness towards the community in his brief note, "I could not be more proud of Dr. Singh and what he has done for our community.  He could have taken his business anywhere, but he picked Hernando County, giving us so much more than just great health care."
This is a special occasion for all of us at Access Health Care Physicians, LLC as we rejoice in being part of such a magnanimous union.
To schedule an appointment with Dr. Singh, visit:
https://theaccesshealthcare.com/providers/pariksith-singh