There are a number of major decisions to be made regarding your healthcare coverage as you get closer to 65. Enrolling in Medicare, the federal health insurance program for seniors and those with disabilities is one of the most important of them.
Medicare provides essential healthcare coverage, but understanding its complexities is crucial to making informed decisions about your healthcare needs.
In this blog, we go over everything you need to know before signing up for Medicare to help you navigate the system and pick the best plan for your medical needs.
Understanding the Basics of Medicare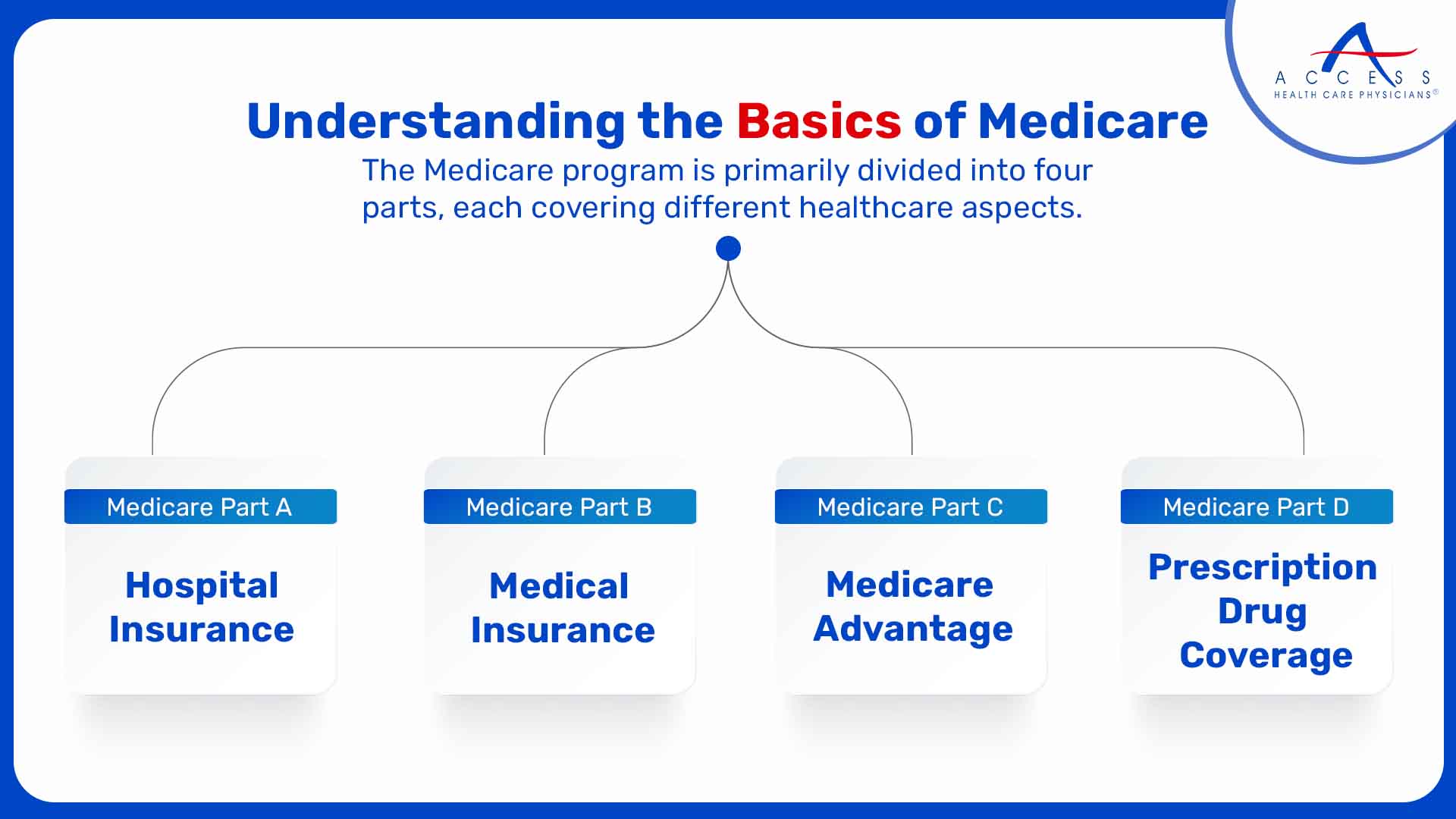 Medicare is a federal health insurance program that primarily covers those aged 65 and older. It covers the majority of health care and hospitalization expenditures for the elderly, as well as younger individuals with disabilities and those with end-stage renal disease (ESRD) or Lou Gehrig's illness (Amyotrophic Lateral Sclerosis, or ALS). If you have been getting Social Security, you are automatically enrolled in Medicare when you turn 65.
For many, losing Medicare would mean being unable to afford basic health care.
The Medicare program is primarily divided into four parts, each covering different healthcare aspects.
1. Medicare Part A (Hospital Insurance)
Medicare Part A offers mainly inpatient hospital treatment, skilled nursing facility care, and hospice care among other home healthcare services. Most people do not have to pay a Part A premium if they or their spouse paid Medicare taxes while working. This is commonly known as premium-free Part A.
2. Medicare Part B (Medical Insurance)
Part B of Medicare covers outpatient treatment, physician services, preventative care, and durable medical equipment that may be required. Certain home health care services are also included. Part B, unlike Part A, typically calls for a monthly premium, the cost of which varies based on your income.
3. Medicare Part C (Medicare Advantage)
Medicare Part C, often known as Medicare Advantage, is an alternative to standard Medicare. These plans are offered by private insurance firms that have been approved by Medicare. They often offer additional benefits such as prescription medication coverage (Part D) and tend to have reduced out-of-pocket payments. It's important to understand that signing up for a Medicare Advantage plan coverage implies you're opting out of standard Medicare.
4. Medicare Part D (Prescription Drug Coverage)
Medicare Part D covers prescription drugs, allowing recipients to afford the medications they require. Usually, private insurance firms provide these policies, and the cost of premiums and coverage tends to vary greatly.
When Should You Enroll in Medicare?
One of the most commonly asked questions is when to sign up for Medicare. The date of your Medicare enrollment matters greatly as it affects your coverage and any possible penalties.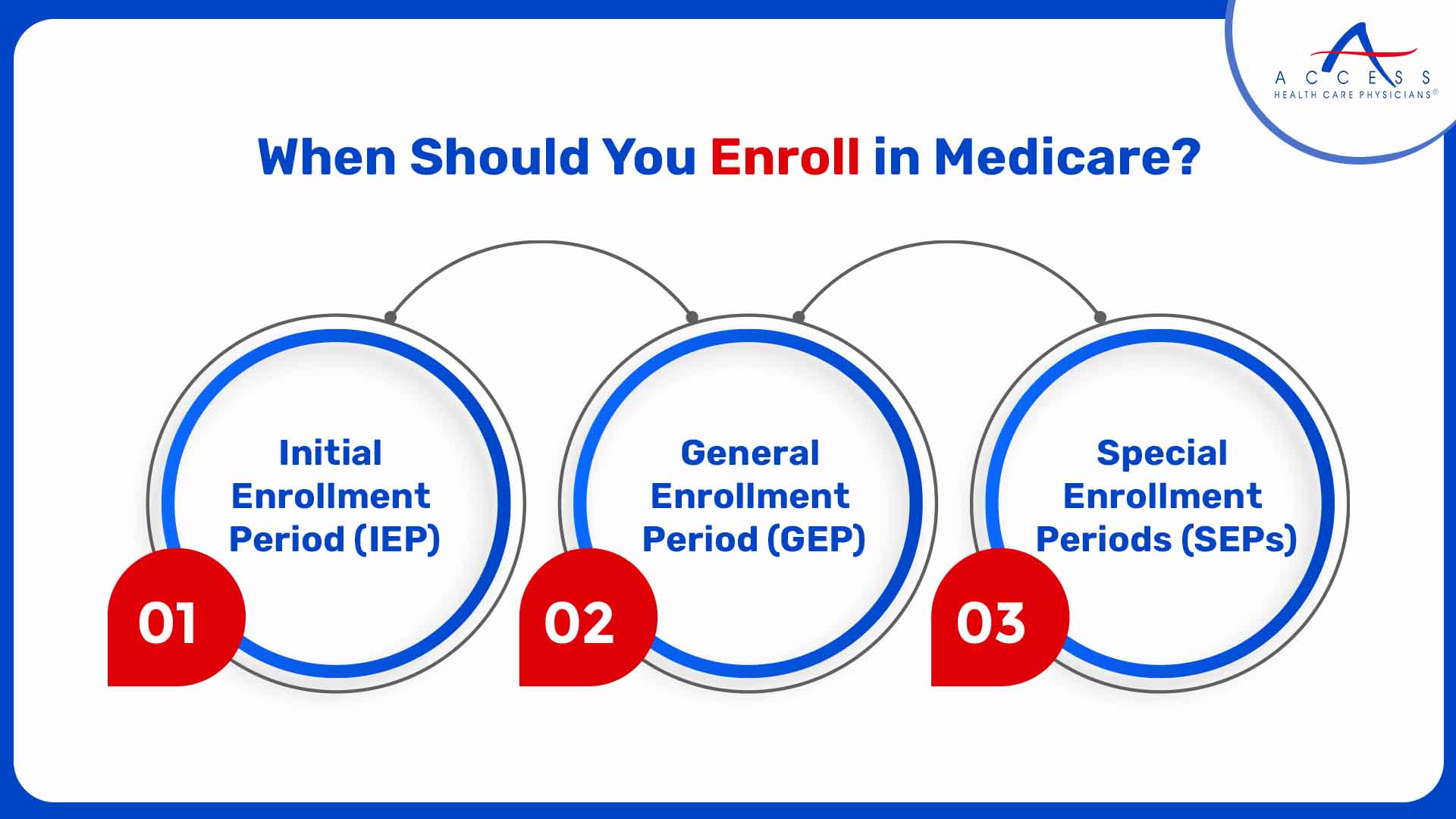 Here are some important time stamps to keep in mind:
1. Initial Enrollment Period (IEP)
Your Medicare Initial Enrollment Period (IEP) begins three months prior to your 65th birthday. It includes your birthday month and persists for three months after that as well. You can enroll in Medicare Part A, Part B, or both without any penalty throughout this seven-month period.
When you reach the age of 65, the majority of people are automatically enrolled in Part A if they have been receiving Social Security benefits.
2. General Enrollment Period (GEP)
If you do not qualify for a Special Enrollment Period (SEP) and miss your IEP, you can enroll in Medicare during the Open Enrollment Period (OEP), which usually runs from January 1st to March 31st every year.
Delaying enrollment, however, could result in higher Part B costs.
3. Special Enrollment Periods (SEPs)
Certain circumstances could allow you to enlist in Medicare outside of your IEP or GEP without any penalties. Working over the age of 65 and having group health care via your company or your spouse's employer are two common SEPs.
Once your group insurance coverage expires, you generally have about eight months to enroll in Medicare without penalty. It's important to stay informed about the specifics and differences between OEP and AEP.
Choosing Between Medicare Parts A and B
If they paid Medicare taxes throughout their working years, most people are immediately enrolled in Medicare Part A. However, you still have to decide whether or not to enroll in Medicare Part B.
Here are some factors to think about:
1. Do you need Part B?
Part B of Medicare covers outpatient services such as doctor visits and preventative care. You can choose to postpone your Part B enrollment if you are still working and have health insurance through your workplace or your spouse's employment. To avoid late enrollment penalties, be sure you understand the regulations about credible coverage.
2. The Cost of Part B
Medicare Part B requires a monthly premium, which varies depending on your income. It's important to budget for this premium and think about how it fits into your overall healthcare costs.
3. Coordination with Other Insurance
If you have other insurance coverage, such as retiree health benefits, VA benefits, or TRICARE for military retirees, you have to coordinate your coverage with Medicare in order to maximize your health insurance benefits and minimize any out-of-pocket costs.
Medicare Advantage (Part C) vs. Original Medicare (Parts A and B)
Medicare beneficiaries also have the option to choose between Original Medicare (Parts A and B) and Medicare Advantage (Part C).
Original Medicare (Parts A and B)
This provides nationwide coverage with access to any Medicare-accepting healthcare providers

It allows you to improve your Medicare coverage with Medigap (Medicare Supplement) policies to help with any out-of-pocket expenses

It requires a separate enrollment in a prescription drug plan (Part D)

This offers you the flexibility to see specialists without any referrals

It usually involves higher out-of-pocket costs unless you have a supplemental coverage
Medicare Advantage (Part C)
This combines hospital (Part A) and medical (Part B) coverages into one plan.

It also includes additional benefits such as prescription drug coverage (Part D), dental, vision, and hearing services.

It tends to have lower monthly premiums compared to Original Medicare.

It may have cost-sharing in the form of copayments or coinsurance for services.
Consider your healthcare needs, finances, and preferred healthcare providers when picking between Original Medicare and Medicare Advantage. Remember that Medicare Advantage plans tend to differ by location as well.
Everything You Need to Know about Medicare Part D
When you first become eligible for Medicare, you can enroll in a Medicare Part D plan during your Initial Enrollment Period (IEP). If you miss this window, you can enlist during the Medicare Annual Enrollment Period (AEP), which spans from October 15th to December 7th each year.
Each Part D plan includes a formulary, which is a list of prescriptions that are covered. It is important to study the formulary of a plan to ensure that it covers the prescriptions you require.
If your prescriptions change, you can make changes to your plans during the AEP to find one that suits your needs better.
Did you know?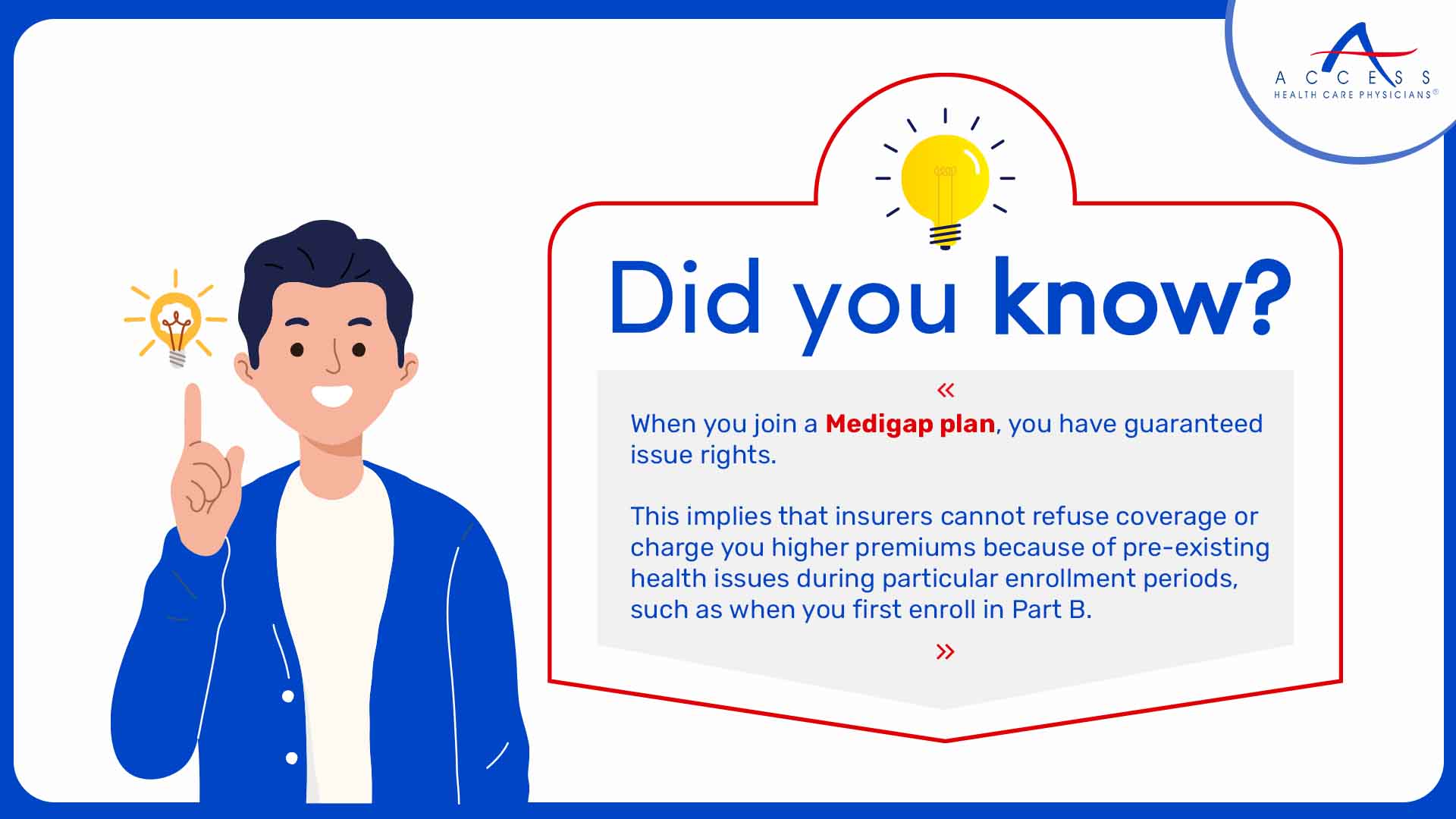 When you join a Medigap plan, you have guaranteed issue rights. This implies that insurers cannot refuse coverage or charge you higher premiums because of pre-existing health issues during particular enrollment periods, such as when you first enroll in Part B.
Things to do before signing up for Medicare
Inquire with your employer or benefits administrator about how its retiree coverage works with Medicare. You'll want to know if your (or your family's) present benefits will change or if they provide any retirement and other supplemental coverage.

Check to see when your current coverage expires. Enrolling in Medicare before your existing coverage ends can help you avoid a coverage gap.

If you do not have retiree coverage or your company does not provide creditable prescription drug coverage, look for Medicare options in your area.
Review Your Healthcare Needs

Research Plans and Providers

Understand and Calculate Potential Costs

Utilize Online Resources such as the official Medicare website (medicare.gov)

Seek Assistance from your existing primary care providers or a general practitioner

Stay updated about any changes in Medicare regulations and plan options
Enrolling in Medicare is an important step towards ensuring your healthcare coverage as you get older. Understanding the many components of Medicare, enrollment periods, and associated costs is vital for making informed healthcare decisions. Access Health Care Physicians helps you navigate this complicated terrain with ease and supports you every step of the way.
Frequently Asked Questions
When you turn 65, you are automatically enrolled in Medicare. You can, however, get Medicare if you suffer from any disability.
While Medicare aims to help with certain healthcare costs, each part of Medicare has specific costs and tends to include monthly premiums.
Medicare is a federally funded national health insurance program.
Online resources are the way to educate yourself about Medicare plans and keep yourself updated.
If you desire cheaper monthly rates, bundled coverage, and an out-of-pocket cost cap, Medicare Advantage plans could be a viable option.