Medicare is a vital component of the American healthcare system, providing coverage to millions of seniors and certain individuals with disabilities.
Understanding the various parts of Medicare can be challenging, as each part serves a distinct purpose and covers different aspects of healthcare.
What Does Part A Cover?
Medicare Part A is also often referred to as Hospital Insurance. It primarily covers inpatient hospital care. This includes services and care received in hospitals, skilled nursing facilities, hospice care, and some home healthcare services.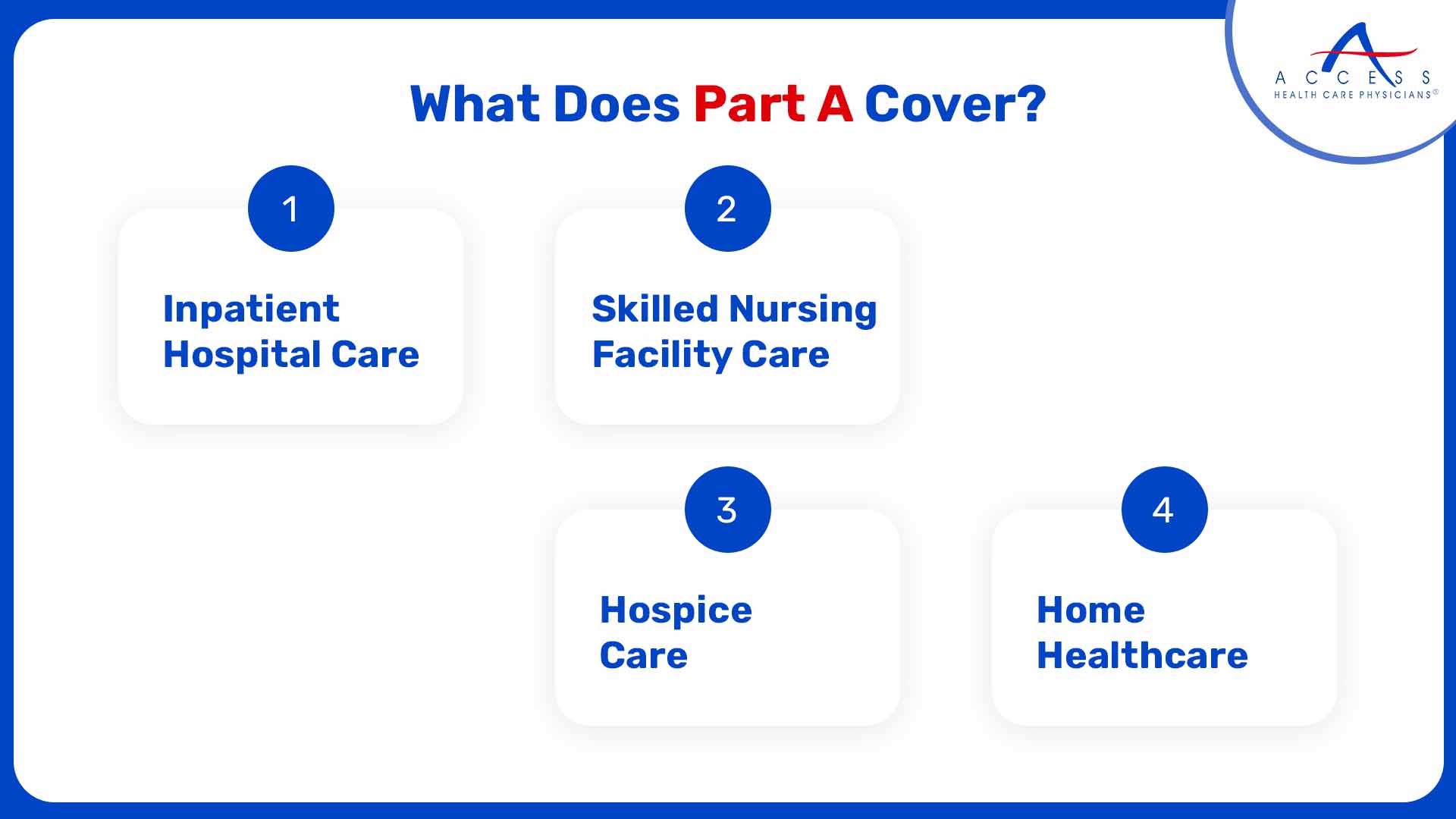 Hospital Care
Part A covers the following hospital services:
Inpatient Hospital Care

Skilled Nursing Facility (SNF) Care

Hospice Care

Home Healthcare
Eligibility and Costs
The majority of people are eligible for Medicare Part A without paying a premium if they or their spouse have worked for at least 10 years (40 quarters) and paid Medicare taxes. Even if you do not qualify for premium-free Part A, you could still be able to purchase it.
While Part A doesn't require a monthly premium for most beneficiaries, other costs are associated with the program, including deductibles and coinsurance. These are things you need to consider in order to make the most of the Medicare Annual Enrollment Period.
Part B: Medical Insurance
Medicare Part B, also known as Medical Insurance, provides coverage for a variety of medically essential services including preventative care.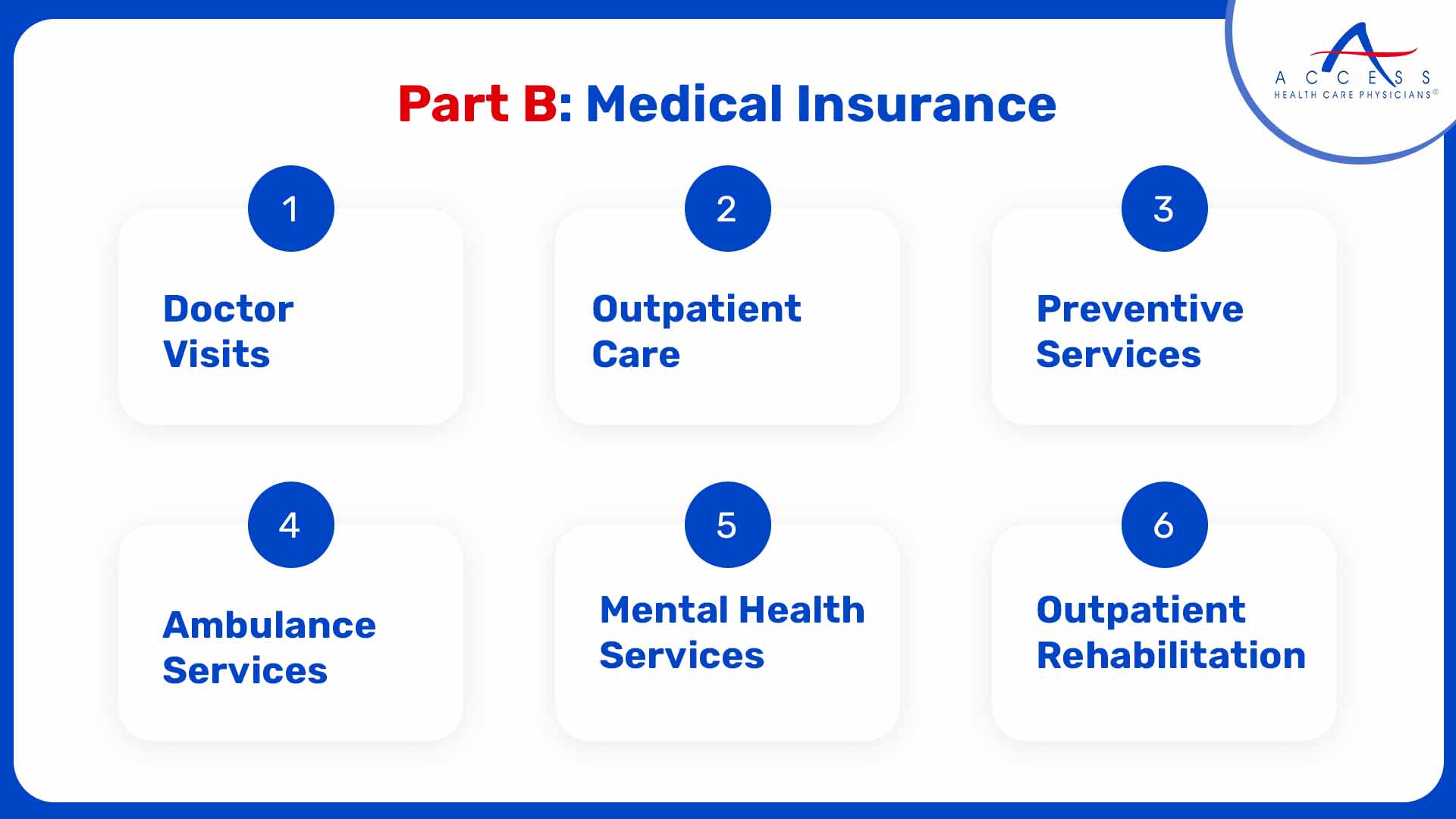 Part B is intended to assist in the payment of doctors' services, outpatient treatment, and other medical services and supplies that are not covered by Part A.
Medical Services
Part B covers various medical services, including:
Doctor Visits

Outpatient Care

Durable Medical Equipment (DME)

Preventive Services

Ambulance Services

Mental Health Services

Outpatient Rehabilitation
Eligibility and Costs
Medicare Part B is not provided to everyone automatically. You must enlist during your Initial Enrollment Period (IEP), which usually begins three months before your 65th birthday. If you miss your IEP, you can enlist during the Annual Enrollment Period.
Part B has a monthly premium that is adjusted annually based on your income. In 2023, the regular monthly Part B premium is $170.10, however, high-income individuals may pay extra through income-related monthly adjustment amounts (IRMAA).
Medicare Advantage - Part C
Medicare Part C, sometimes referred to as Medicare Advantage, is an alternate method of receiving Medicare benefits. Instead of acquiring your Medicare coverage through Original Medicare (Parts A and B), you can enlist in a Medicare-approved private health insurance plan.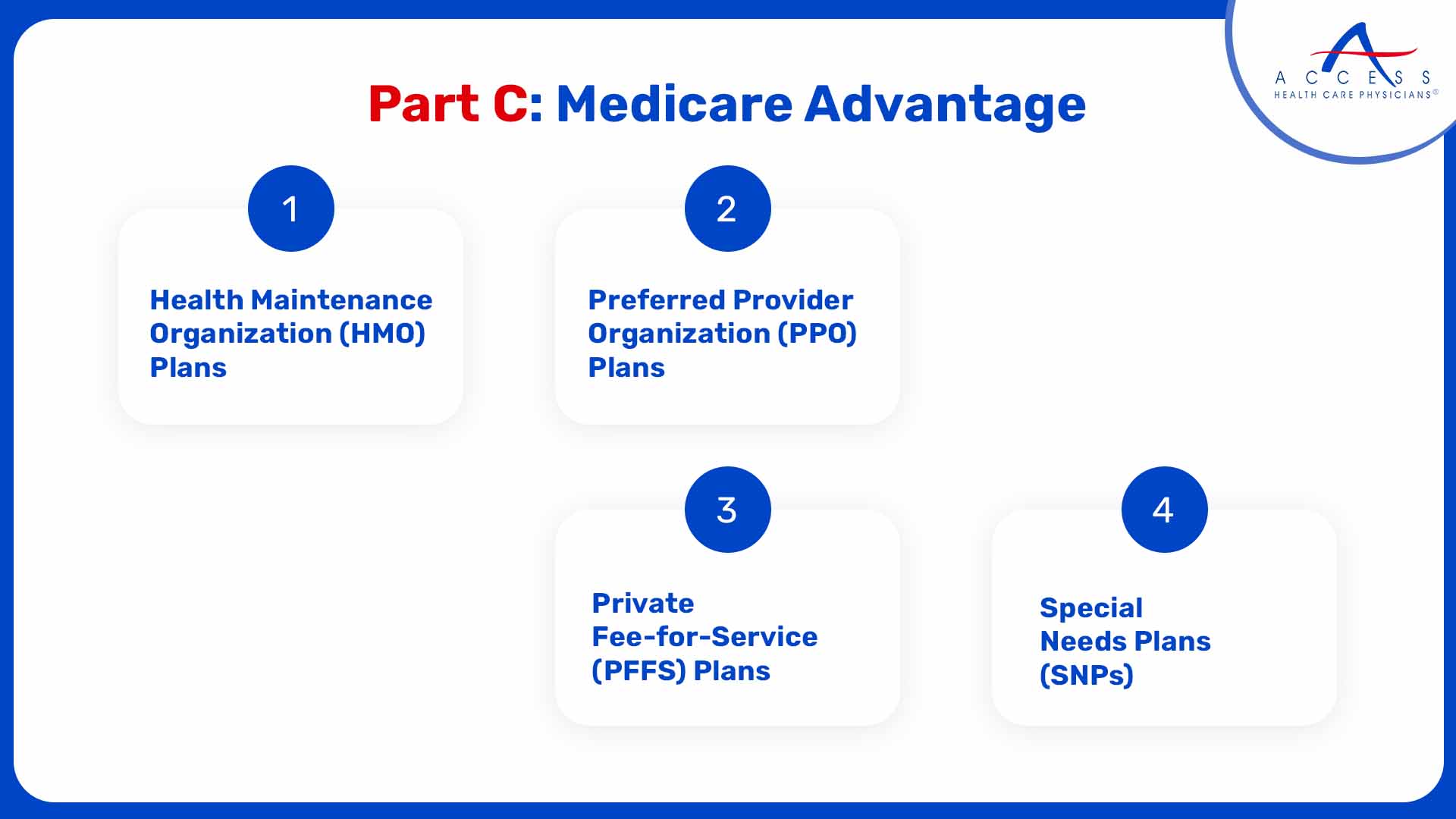 Medicare Advantage Plans
Private insurance companies provide Medicare Advantage plans, which combine the benefits of Medicare Parts A and B into a single plan. Prescription medicine coverage, dental care, vision care, and wellness programs are common additions to these plans.
There are several types of Medicare Advantage plans, including
Health Maintenance Organization (HMO) Plans often require you to select a primary care physician and obtain specialist referrals.

Preferred Provider Organization (PPO) Plans provide you with more options for healthcare providers and allow you to see specialists without any referrals. However, it's generally less expensive to use in-network providers.

Private Fee-for-Service (PFFS) Plans determine how much they will pay for covered services, as well as how much you will pay when you receive care. You can see any Medicare-approved provider who accepts the provisions of this plan.

Special Needs Plans (SNPs)  are intended for people with certain health issues or circumstances, such as those living in a nursing home.
What are some Additional Benefits of Medicare Advantage?
Medicare Advantage plans often include benefits not covered by Original Medicare, such as
Prescription Drug Coverage (Part D): Many Medicare Advantage plans include prescription drug coverage, eliminating the need for a separate Part D plan.

Dental and Vision Care: Some plans cover routine dental and vision care, including exams, cleanings, and eyeglasses.

Wellness Programs: These may include fitness memberships, nutrition counseling, and other wellness-related benefits.
Eligibility and Costs
You must be enrolled in both Medicare Part A and Part B and live in the plan's service area to enlist in a Medicare Advantage plan. Medicare Advantage plan costs might vary greatly, so it's important to compare plans depending on your personal needs.
While your Part B price will remain the same, many Medicare Advantage plans have their own monthly premiums, copayments, and deductibles. There is a lot of debate around Medicare vs Medicare Advantage Plan. Which is why it is vital to thoroughly research plan information in order to completely comprehend all fees and coverage limits.
Part D: Prescription Drug Coverage
Medicare Part D covers the prescription medication coverage component of Medicare. It assists beneficiaries in paying for the cost of prescription prescriptions, ensuring that critical medications are available at an affordable price.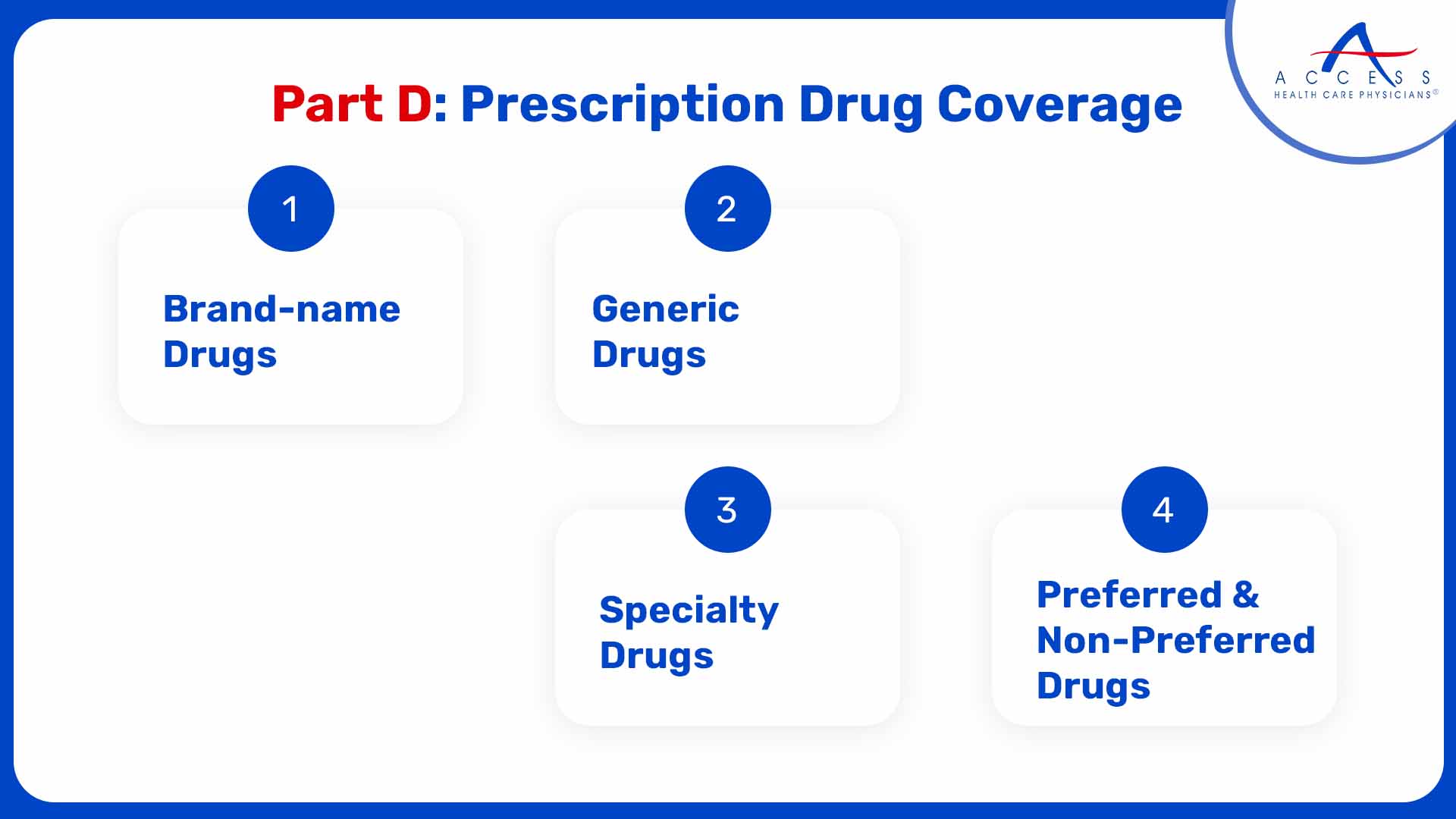 What are Prescription Drug Plans (PDPs)?
Medicare Part D is delivered through Prescription Drug Plans (PDPs) offered by private insurance companies. These plans can vary in terms of covered drugs, formularies, and costs.
Part D plans typically cover a wide range of prescription drugs, including:
Brand-name Drugs

Generic Drugs

Specialty Drugs

Preferred and Non-Preferred Drugs
You must be enrolled in either Medicare Part A or Part B to enlist in a Medicare Part D plan. Part D is voluntary, but enrolling as soon as you are eligible to avoid late enrollment penalties is a smart idea and is recommended.
Monthly rates for Part D plans vary depending on the plan you select. A yearly deductible is also required, which may vary from year to year.
Once you've met your deductible, you'll usually pay a percentage of the cost of your drugs (coinsurance or copayments) until you reach your plan's out-of-pocket limit. After you've reached your out-of-pocket maximum, the plan will cover the majority of your prescription costs.
It's essential to review the specific medications covered by each Part D plan to ensure it meets your needs and that your preferred pharmacy is in the plan's network.
What Medicare Doesn't Cover
While Medicare provides comprehensive coverage for many healthcare services, it doesn't cover everything. There are many things you need to know before signing up for Medicare.
Some services and items not covered by Medicare include:
1. Long-Term Care:
Medicare does not cover long-term care in nursing homes or assisted living facilities, except in limited situations.
2. Most Dental Care:
Routine dental care, including cleanings, fillings, and dentures, is generally not covered by Medicare.
3. Eye Exams and Glasses:
Medicare does not cover routine eye exams or eyeglasses, except in specific cases, such as after cataract surgery.
4. Cosmetic Surgery:
Procedures solely for cosmetic purposes are not covered.
5. Acupuncture:
Medicare does not cover acupuncture.
6. Hearing Aids:
Hearing aids and exams for fitting them are typically not covered.
7. Prescription Drugs (without Part D):
If you do not enroll in a Part D plan, Medicare does not cover most prescription drugs.
8. Overseas Care:
Medicare typically does not cover healthcare services received outside of the United States, with some exceptions.
It's important to note that while Medicare may not cover certain services or items, you can explore supplemental insurance options, such as Medigap (Medicare Supplement Insurance), to help cover some of these gaps in coverage. There are different tips you can keep in mind to maximize your healthcare insurance benefits.
Understanding the various parts of Medicare is crucial for making informed healthcare decisions as you approach retirement or become eligible for Medicare due to a disability. Access Health Care Physicians offers a number of physicians to guide you through this process and make better decisions for your healthcare needs.
Frequently Asked Questions
Part C presents an alternative method of receiving Medicare benefits in the form of Medicare Advantage Plans. Prescription medicine coverage is provided via Part D.
While Part A provides inpatient/hospital coverage, Part B covers outpatient/medical coverage.
Dental care, eye examinations, hearing aid, and oversea care is something that Medicare does not cover.