As the leaves change and the outside temperature drops, another yearly event for millions of Americans approaches: the Medicare Annual Enrollment Period (AEP), formerly known as the Medicare Open Enrollment Period 2023.
This critical time, which normally lasts from October 15th to December 7th, allows beneficiaries to make adjustments to their Medicare coverage for the coming year.
Unless you modify it, your Medicare plan will automatically renew at the start of each year, but you may not receive the same benefits. Insurance companies assess and improve the advantages of their Medicare plans each year.
Rather than merely renewing your plan, it's a good idea to double-check that it still meets your needs. This will help you prepare for the Annual Enrollment Period.
Assess Your Current Medicare Coverage
Before signing up for Medicare and making any final decisions regarding your healthcare coverage for the future year, you must first understand your existing plan.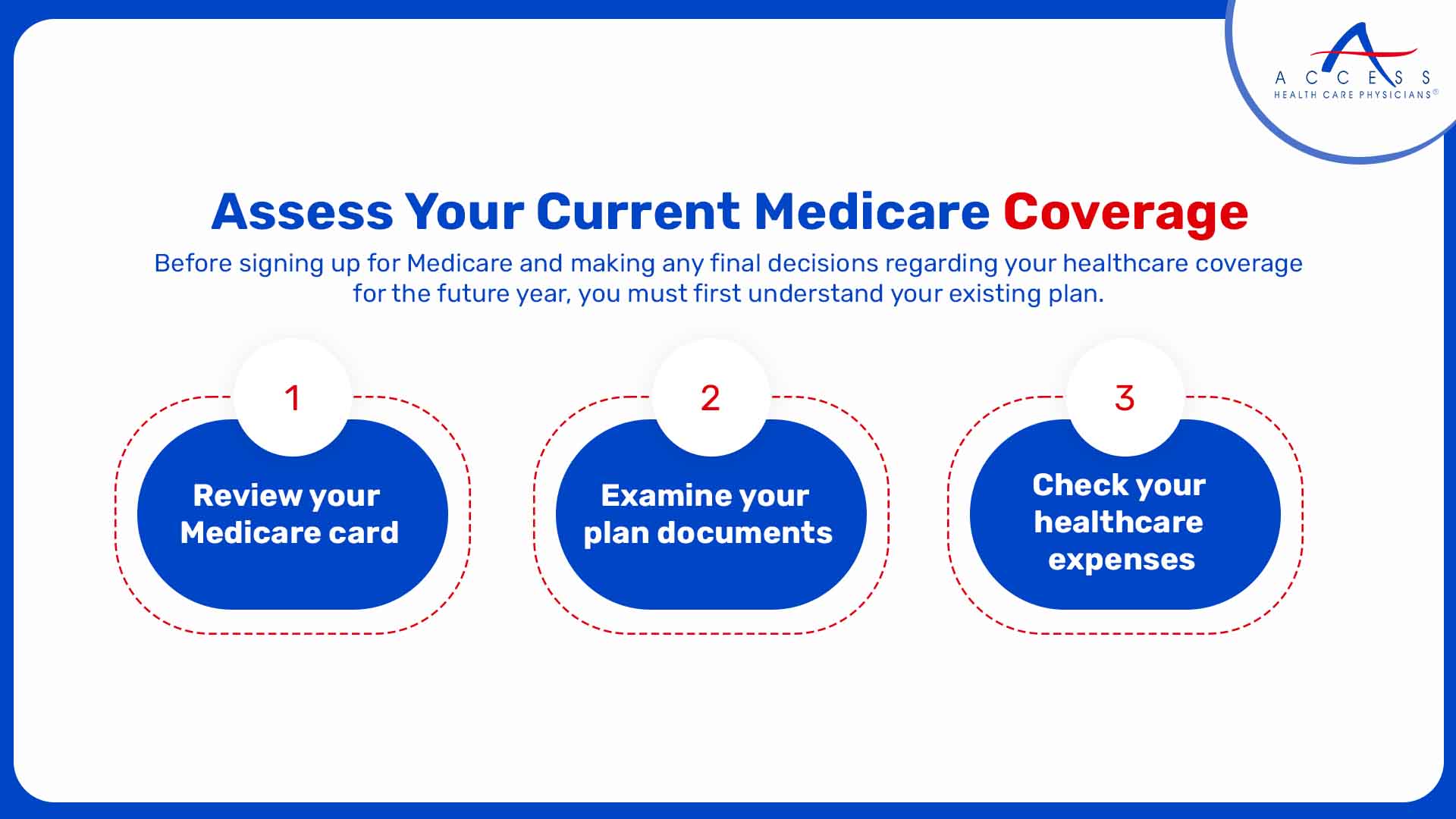 To evaluate your current Medicare coverage, take the following steps:
a. Review your Medicare card:
Your Medicare card offers important information about your current plan, such as your Medicare number, enrollment date, and the parts of Medicare you have (Part A, Part B, Part C, or Part D).
b. Examine your plan documents:
Assemble your Medicare Advantage (Part C) or Medicare Supplement (Medigap) insurance documentation, as well as details regarding your Medicare Part D prescription medication coverage. Keep a close eye on the costs, coverage, and any changes that may have occurred in the previous year.
c. Check your healthcare expenses:
Examine your medical and prescription medicine costs from the previous year. Take note of any major changes in your healthcare requirements, such as new medications, doctor appointments, or hospitalizations.
Understand Your Medicare Parts
Medicare is divided into various segments, each of which covers a different area of healthcare. Understanding these parts is important if you want to make changes to your Medicare coverage during the Medicare Annual Enrollment Period:
a. Medicare Part A covers expenses related to hospital care, skilled nursing facility care, hospice care, and some additional home health services.
b. Medicare Part B covers medical services and outpatient care, such as doctor visits, preventive services, and durable medical equipment. 
c. The Medicare Advantage plans (Medicare Part C) are offered by private insurance companies approved by Medicare. These plans provide all-in-one coverage. It's important to understand the difference between Medicare and Medicare Advantage plans.
d. Medicare Part D is the prescription drug coverage part of Medicare, offered through private insurance companies.
Determine Your Healthcare Needs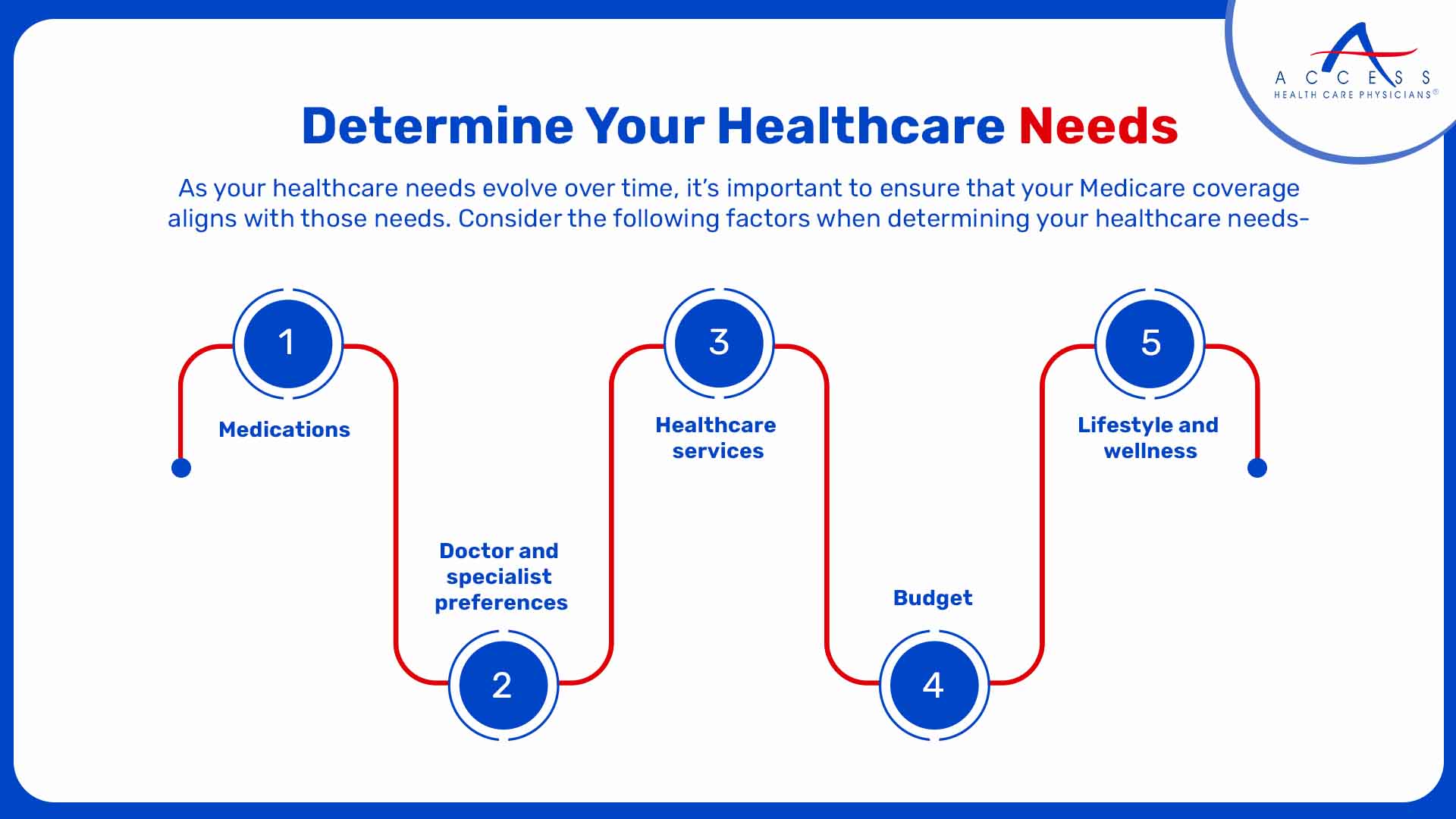 As your healthcare needs evolve over time, it's important to ensure that your Medicare coverage aligns with those needs. Consider the following factors when determining your healthcare needs:
a. Medications:
List all of the prescription medications you use, as well as the amounts and frequency with which you take them. Compare this list to your existing Part D plan's formulary (list of covered drugs) to discover whether your medication coverage has changed.
b. Doctor and specialist preferences:
Make a list of your regularly visited healthcare providers, including your primary care physician and any specialists. Check to see if your preferred doctors are in-network with your Medicare plan.
c. Healthcare services:
Consider what kinds of healthcare services you could require in the following year, such as preventive care, diagnostic tests, or surgical treatments. Check that your plan sufficiently covers these services.
d. Budget:
Estimate your out-of-pocket healthcare expenses based on your monthly budget. Consider premiums, copayments, deductibles, and annual expenses.
e. Lifestyle and wellness:
Consider whether you have any additional wellness or lifestyle requirements, such as dental, vision, hearing, or exercise advantages. These additional benefits are available through certain Medicare Advantage plans.
Research Available Medicare Plans
Armed with knowledge about your current coverage and healthcare needs, it's time to explore the available Medicare plans for 2023. Here are the primary options:
a. Original Medicare (Parts A and B)
b. Medicare Advantage (Part C)
c. Medicare Part D (Prescription Drug Plans)
d. Medicare Supplement (Medigap) Policies
Compare Plans and Providers
Once you've identified the available Medicare plans and options that align with your healthcare needs, it's time to compare them thoroughly. This is important to maximize your health insurance benefits.
Here's how to do it:
a.Carefully review the plan documents and summaries for each option. Pay attention to premiums, deductibles, copayments, and any out-of-pocket costs.
b. Confirm that your preferred doctors, specialists, hospitals, and healthcare facilities are in-network for the plan you're considering. 
c. If you take medications regularly, compare the Part D plans' formularies to ensure your drugs are covered. 
d. If you're considering Medicare Advantage, evaluate the extra benefits offered, such as dental, vision, hearing, fitness programs, and transportation services.
e. Use online tools and calculators to estimate your total annual costs for each plan.
While it's essential to address your current healthcare needs, don't forget to think about your future needs as well. Medicare is a long-term healthcare program, and your health may change over time.
Consider the following factors:
a. Anticipated changes in medications or treatments
b. Age-related healthcare needs
c. Long-term care planning care services, explore long-term care insurance options or Medicaid eligibility.
Seek Expert Guidance
Navigating the complexities of Medicare and evaluating your options can be overwhelming. Seeking expert guidance from your primary care physician can provide valuable insights and ensure you make informed decisions.
You can also widen your research base by exploring the official Medicare website (Medicare.gov) which offers tools and resources to help you compare plans, find in-network providers, and estimate costs.
There are also Medicare-certified insurance agents and brokers who can assist you in exploring Medicare Advantage, Part D, or Medigap plans. 
Remember to mark the important dates on your calendar and take action during the Annual Enrollment for Medicare to register for a new plan or adjust your existing coverage. Reach out to Access Health Care Physicians for any additional guidance. With careful planning and consideration, you can easily navigate the Medicare environment with peace of mind.
Frequently Asked Questions
The primary distinction between AEP and OEP is that AEP provides more alternatives and flexibility than the Open Enrollment Period.
After Social Security approves you for Original Medicare, you can enroll in a Medicare Advantage plan through Medicare.gov, directly with the insurance provider, or with the help of a consultant.
You can switch to another Medicare Advantage plan, go back to original Medicare, or sing up for Medicare Part D.
It stands for the Open Enrollment Period.
You can only switch once during the open enrollment period.